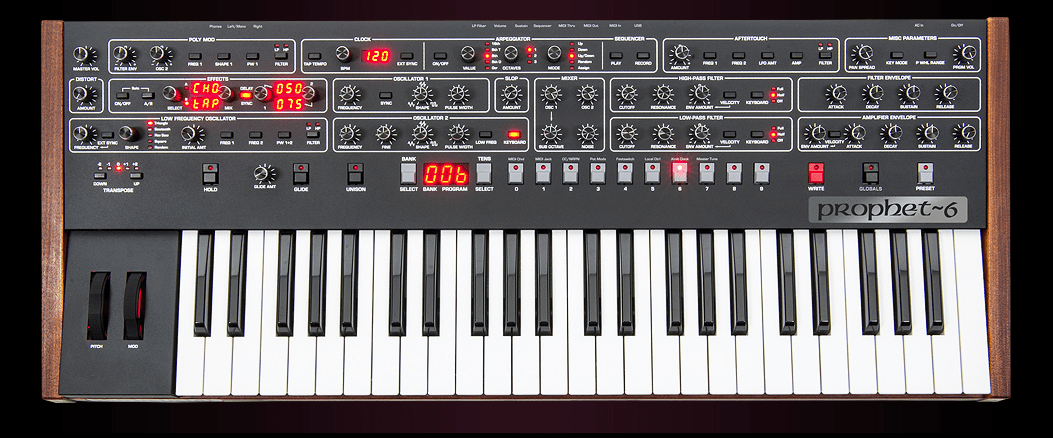 As I write this, I can't help but feel that NAMM this year found a hot tub time machine. First it was the mighty trio from Moog. And now even more blasts from the past. This one is a Prophet!
While not physically bigger there where two synths announced today that are way bigger in importance (at least to me). In a prior column I go on and on about one of my favorite noisemakers in the entire wide world. The mighty Sequential Prophet 5; yes the one I've been pinning away for an eternity now. I didn't buy it when nobody wanted and I have regret it ever since.
Little did I know that life and Dave Smith would have an early birthday surprise for me this year.
The Prophet-6 is a tribute to the original poly-synth that started it all—the Sequential Prophet-5. But more importantly, it's the culmination of our effort to build the most awesome- sounding, modern analog poly-synth possible." Added Smith: "It's not a reissue, it's vintage with a modern twist.
— Dave Smith
While not identical to the P5 in neither sound or function it clearly shares the family DNA. I hate to rattle off all the specs and minutia that you can read all about it here. Watch the video and judge the sound for yourself. As for myself all I can say is please let this be less than ingot of gold, and I'll say Prophet 6 — yes please.
Next you gona tell me Arp is back. Wait Korg did what?